The world has definitely been a crazy place over the past 18 months, and unfortunately it does not appear like we are getting back to the old normal anytime soon. Cruises have always been my favorite way to travel, and we had 5 cruises cancelled during the shutdown. Once cruises started back up, we responded with both excitement and trepidation. What would the new normal look like on a cruise ship? Would we still enjoy ourselves? Are all the tests and rules and limitations worth booking a cruise right now? We finally went on our first post-lockdown cruise, a 3 Night Bahamas itinerary on Royal Caribbean's Freedom of the Seas, and got our answers.
In a word? Absolutely. Below I cover 5 reasons why we are cruising now more than ever before.
I Felt Safer on Board Than at Home
There are definitely a lot of hoops to jump through. All adults over the age of 12 must be fully vaccinated. You have to have a negative Covid-19 test taken within the two days before departure. Masks are required at most indoor locations within the ship. You have to sign up for a specific arrival window. Some onboard experiences where social distancing is impossible have been cancelled.
It was a lot of hoops to jump through, and I was worried that it would cause undue stress before a vacation, but it really was not bad. There is the peace of mind of knowing that everybody on board the ship has to follow those same restrictions. You know that everybody you come in contact with is vaccinated. You know they have had a negative test within the past few days. Everybody wants to be onboard bad enough to follow all the rules and procedures. All in all, I felt like my risk of getting sick was much lower on board the cruise ship than it is in my day to day life.
The policies themselves weren't difficult at all to comply with either. We have a number of pharmacies that offer tests, as well as urgent care centers and pop-up testing centers. You can also do the test-at-home kits, so long as they include a teledoc visit while you take the test. These kits can be bought from pharmacies or even direct from eMed or Royal Caribbean.
This isn't an opinion unique to me, either. Just the other day The Points Guy reached a similar conclusion.
The Crowd Levels Make for a Whole New Experience
While I do not have exact numbers from our cruise in August, it definitely felt as if the cruise was sailing at between 30 and 40% capacity. Freedom of the Seas has a maximum capacity of 3,600 guests, and I would be amazed if there were more than 1,500 people when we were on board. We never once had to wait for a second elevator because the first to arrive was full. The pools and hot tubs were never full. You did not need to arrive early to stake out a good pool chair. Lines at bars, dining venues, and Freestyle machines were virtually non-existent.
I have taken 14 other cruises, and this was an experience like nothing before. In many ways it was like getting a luxury, small ship experience at a mass-market line price.
Honestly, I'm not sure how much longer this is going to last. People are growing more and more confident in cruising, and the number of bookings are rising. If you want the best chance to be on a cruise with lower capacity, I'd highly recommend contacting me and reserve a stateroom today.
Stateroom Selection Has Never Been Better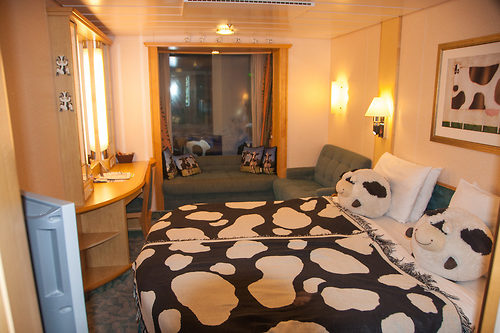 Lower crowds also means more available staterooms, and that means the best available selection. Seasoned cruisers will already know this, but not every stateroom on a ship is made the same. Even within a single category, there are a few "hidden gems." Sometimes this is as simple as a room in a great location. Sometimes it means being able to get adjoining or adjacent rooms for larger parties. Sometimes, it can be balconies with a better view, or slightly larger balcony. And sometimes, it can be a truly secret room with special features, like the "Cow Suite" on Royal Caribbean's Freedom class.
In previous years, these were the kind of staterooms that you had to book as far in advance as possible. That would mean waiting for the day reservations opened and putting down a deposit right away. Your funds would be locked into the cruise for years, just to reserve one of the few special rooms on board the ship.
Now, with the reduced number of bookings, it's easier than ever to snag one of these rooms, even for a close-in booking. From now until the end of the year, Freedom of the Seas has 28 remaining cruises. The Cow Room, also known as the Ben and Jerry's "Sweet", is still available to be booked on 16 of them. That amount of availability for a one of a kind room is unheard of in normal times, but is one great perk of booking now.
Some of the Changes Make for a Better Experience
Not everything that has changed due to Covid is for the worse. A number of changes the cruise lines have made are actually for the better. We were able to do the muster drill through the mobile app, and on our own time. The staggered and set arrival times made checking in and boarding extremely smooth.
Due to our travel history, my husband and I are Diamond members of Royal Caribbean's Crown and Anchor loyalty program. One of the benefits of this tier was free drinks at the Diamond lounge during a daily happy hour. The drinks were unlimited, but you had to go to a specific lounge, during specific hours, and order specific drinks. Now, to improve social distancing, the free drinks are limited to 4 per day, but can be any drink, from any bar, at any time.
There are also some changes that are really nice, although they are only temporarily. For Royal Caribbean, any cruise booked before September 30, 2021 qualifies for double loyalty points. Various cruise lines also have much less restrictive cancellation policies. Norwegian Cruise Line's Peace of Mind, Carnival Corp's Fun with Confidence, or Royal Caribbean's Cruise with Confidence programs all offer much more flexible cancellation options. Each program does have different dates when they are scheduled to end, so reach out to find out what options your preferred line has available.
We Are Seeing Some Amazing Deals
This is one thing that is subject to change very rapidly, but we are seeing some of the best deals we have ever seen on cruises. With cruises not selling out like they used to, the cruise lines are slashing prices. In particular, I have seen some out of this world deals for balcony staterooms. Here's just a small handful of options:
5 Night Caribbean cruise in a suite, 2 adults for $1,187.14
9 Night Caribbean cruise in a balcony, 2 adults for $1,244
A balcony on board the ALL NEW WONDER OF THE SEAS for under $1,800
In general, right now we are seeing a perfect storm of events leading to these low prices. First, as noted above booking numbers are atypically low, and more staterooms available means lower prices to try and fill them. Second, a lot of repeat cruisers who had one or more cruises cancelled are using their Future Cruise Credits to upgrade room types. People who would normally book a balcony may use the bonus FCC value and low prices to grab a suite. Newer cruisers, and those on a budget, may focus on the interior rooms. This leaves a sweet spot for the balcony rooms. On some cruises, we are seeing balcony rooms the same price or even cheaper than regular ocean view rooms.
Right now, I do not feel like there has ever been a better time to book a cruise. If you want to jump ahead of the curve and experience this new world of cruising, reach out and I'll be glad to help plan your next adventure today!