No, that title is not a typo. Recently Luis and I booked two flights using credit card rewards points. The first flight was a one way flight in business class on Iberia Airlines, non-stop from Boston to Madrid. The second was a round trip flight in first class on board All Nippon Airlines, non-stop from San Francisco to Tokyo Narita. If we had paid cash, those same redemptions would have cost us $53,495. Now, being completely honest, we would never pay that much for a flight. Truthfully, I don't think many people ever actually pay the full ticket price for first class tickets. Still, it is an amazing feeling to see those numbers when you don't have to pay them.
Earning the Points
There are several different points programs, and picking the right one for your situation can be difficult. If you always or nearly always fly on a single airline, then it usually makes the most sense to join that airline's frequent flyer program. Luis and I, however, will fly whatever airline works with our destination, dates, and budget. On our trip to Shanghai, we flew with Asiana. Singapore, we flew United. Iceland we are flying on Delta. On other recent trips we have flown on Jetblue, Miami Air, American Airlines, and Alaska Airlines. We just aren't loyal enough to justify investing in any airline specific credit cards.
Instead, we decided to invest in a travel rewards program that could be used for a multitude of airlines. The three main points programs that are available include Chase Ultimate Rewards, American Express Membership Rewards, and Citi Thank You Points. Each program has different strengths and weaknesses, and different partners, but in the end we decided to go with Chase Ultimate Rewards.
The Ultimate Rewards Cards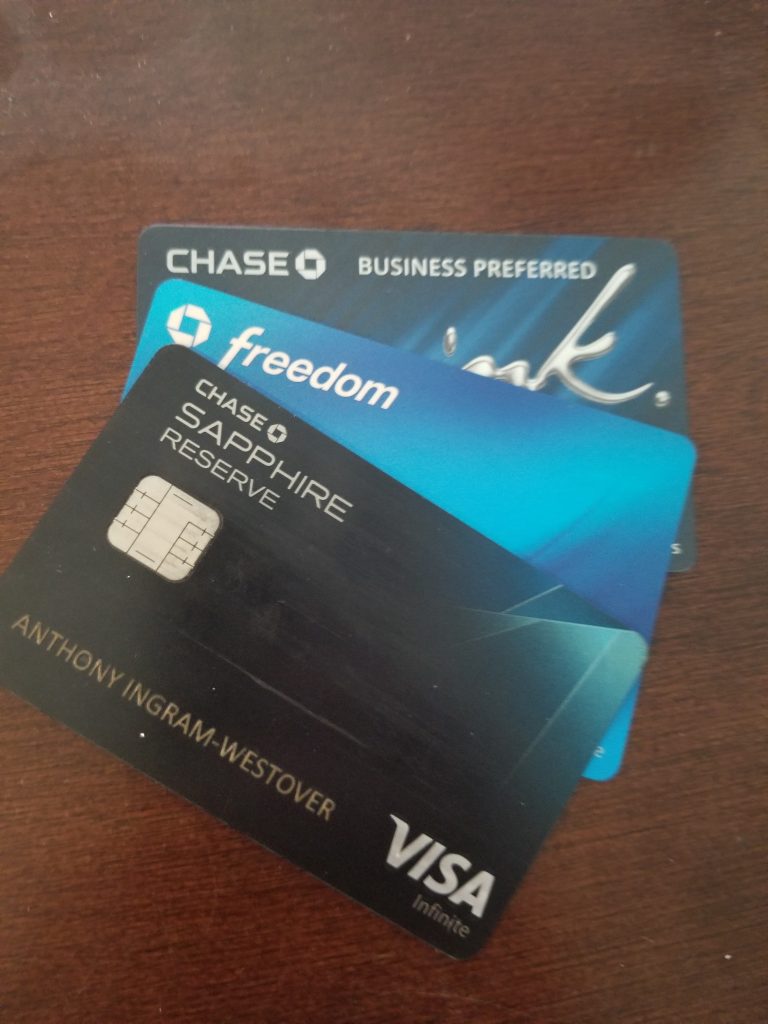 Ultimately, we have four cards that are able to earn us Ultimate Rewards. The first is the Chase Freedom, which does not earn Ultimate Rewards points on it's own, but can transfer points to another card which does earn points. We then have a Chase Ink Business Preferred, and we each have our own Chase Sapphire Reserve.
Sign Up Bonuses
The bulk of our points came from initial bonuses just for getting the cards and reaching a minimum spend amount. These bonus points are not repeatable, but they do offer a very large head start towards reaching your first redemption. The Chase Ink Preferred business card came with an 80,000 point sign up bonus. The Chase Sapphire Reserve originally had a 100,000 bonus, which I was able to take advantage of, but it currently only has a 50,000 bonus, which is what Luis received. Still, for the three cards that was 230,000 points. Enough points for the first class ANA redemption, which runs 220,000 points.
Intelligent Spending
Aside from the sign up bonuses, the other way to quickly earn a lot of points is to maximize the bonus opportunities. The Chase Freedom has rotating categories; every quarter a few new categories will earn 5x points. The Sapphire Reserve, on the other hand, has a set of static bonus categories; 3x the points on all travel and dining purchases. By consistently using the right card for each purchase, you can rapidly earn the points needed for a redemption.
The Redemptions
Now, for the fun part! Once you've earned enough points it's time to start planning some trips. Now, just because Chase is not affiliated with a single airline does not mean you can transfer to anybody; Chase currently partners with only 9 airlines. Still, with the proper planning and knowing about alliances, your options are nearly limitless. The 9 airlines Chase can transfer points to include: British Airways, Air France, Singapore Airlines, United, Southwest, Virgin Atlantic, Korean Air, Iberia, and Aer Lingus.
Business Class on Iberia Airlines
Since Iberia is partnered with Chase, we were able to easily transfer points from our Ultimate Rewards account directly to Iberia. Iberia has an award chart that varies by route and time of year, but for BOS-MAD in October the normal fare would be 34,000 points per person from the east coast or 42,500 points from the west coast, each way. We were able to find a special deal, where our flight would only be 25,500 points each, but we had to fly from Boston.
Since we live in Nevada, Boston is quite a ways away for a flight, but a deal's a deal. A quick check on Google Flights, and we were able to find a flight from Salt Lake City to Boston for only $100 per person on Delta in basic economy.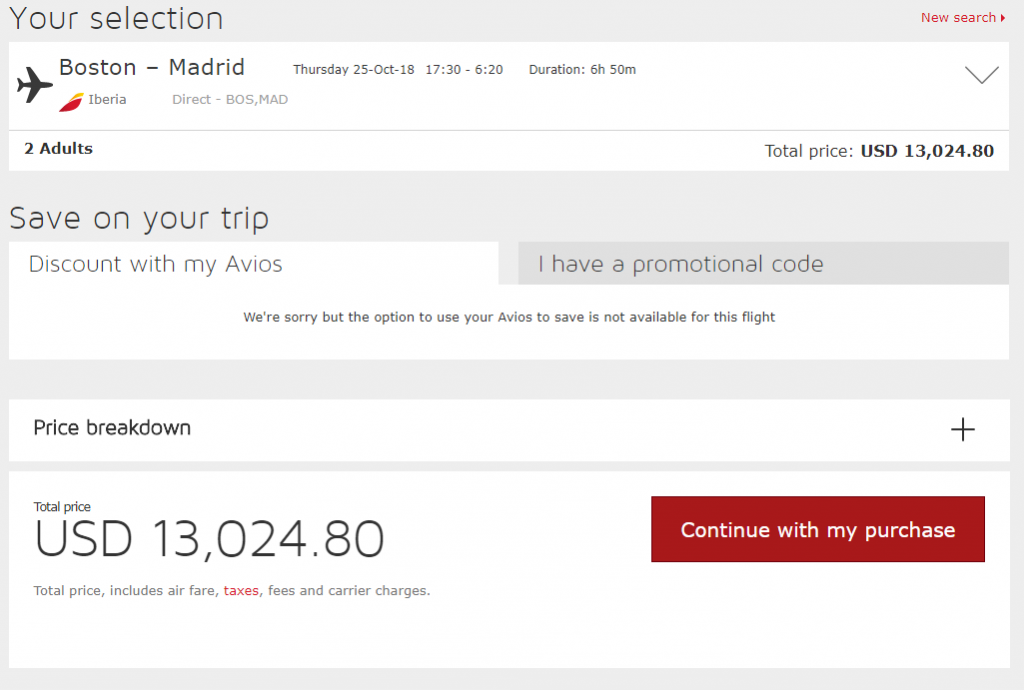 The cash price for a first class ticket from Boston to Madrid on our travel dates is currently $13,024.80 for two people. Instead, we booked it for 51,000 points, $180 in taxes, and $206 for a flight to Boston. Our total savings? $12,638.
First Class on ANA
Unlike Iberia, ANA is not a partner with Chase. However, three of Chase's partners have the ability to book ANA flights: United, Singapore, and Virgin Atlantic. Each option has pros and cons; United has the lowest taxes, Singapore allows you to book one way awards, and Virgin Atlantic offers redemptions for the fewest points.
Ultimately, because of the amazing value, we went with Virgin Atlantic for our redemption. Virgin Atlantic can book first class on ANA for only 110,000 points round trip from the west coast, or 120,000 points from the east coast. Compare this to United which charges the same amount of miles for only one way. That puts Virgin Atlantic in a very sweet spot for Asia redemptions. There are a couple of downsides; you have to book a round trip ticket, it has to be non-stop (which means there are only a small handful of eligible US airports), and seats only become available 336 days out. There are only 2 seats on each plane available for these reduced rates, so it is possible that travelers booking directly with ANA or with another partner have already booked all the available award seats. Still, if your dates are somewhat flexible and you can book almost a year in advance, Virgin Atlantic offers an amazing redemption opportunity for ANA.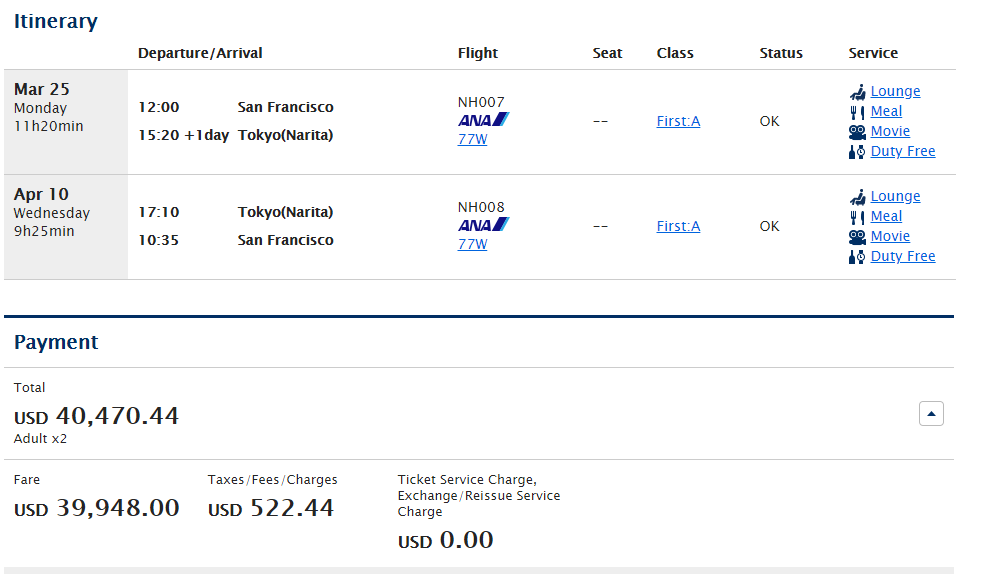 The cash price for a first class ticket from San Francisco to Tokyo and back on our travel dates is currently $40,470.44 for two people. Instead, we booked it for 220,000 points, and $513 in taxes. Our total savings? $39,957.
That's a grand total of $52,595 in savings over two trips.