You may have heard that millenials are killing off the cruise vacation, but cruises are only growing in popularity. In fact, the estimated number of cruise ship passengers in 2018 is expected to increase by over a million. This large growth is only possible because the cruise lines continue building more and larger ships. A total of 13 new cruise ships will start sailing in 2018 with 2 of them sailing this week.
Jump To:
Carnival Horizon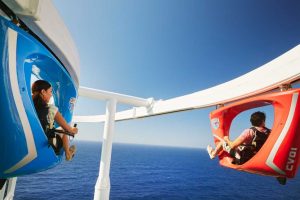 The Carnival Horizon was the first major new cruise ship to set sail in 2018. She was delivered to Carnival on March 28th and started her inaugural sailing on April 2nd. The Horizon will go on 4 Mediterranean cruises before re-positioning to New York for the summer. On September 22nd she will move to Miami and run 6 and 8 night Caribbean cruises. The Horizon is Carnival Cruise Line's 26th ship and second largest, behind only her sister ship, the Vista.
Carnival Horizon Quick Facts
Inaugural Sailing: April 2, 2018 – 13 Night Europe from Barcelona
Decks: 15
Passengers: 3,954
Gross Tons: 133,500
Notable Features: IMAX TheaterDr. Seuss Water ParkSkyRide – Suspended bike above the top deck
If you are ready to book a cabin on board the Carnival Horizon, drop us a note and we'd be happy to start helping you plan.