An adventure lasting 12 days from May 22nd, 2016 to June 3rd, 2016.
Total Cost: $6211.17

| Purchase | Cost |
| --- | --- |
| Flights for 2 | $581.88 |
| 7 Night Alaska Southbound - Interior Room for 4 | $3241.56 |
| Cruise Gratuities for 4 Adults | $378.00 |
| Alaska Railroad Tickets for 4 Adults | $368.00 |
| Whittier Tunnel | $13.00 |
| Hotel in Seward | $210.00 |
| Sea Life Center | $83.00 |
| Exit Glacier | $42.80 |
| Mendenhall Glacier - Juneau | $103.32 |
| Whale Watching Tour - Hoonah | $677.34 |
| Ketchikan Snorkeling | $459.99 |
| Vancouver Lookout | $52.28 |
Typically we try to spread around our vacations a bit and go somewhere new before repeating a vacation, but Alaska is a notable exception. First and foremost, Alaska cruises are absolutely stunning. Secondly, as we were living in Alaska at this time it was a very budget friendly option. Finally, for this trip we had some family members visiting us in Alaska, and we wanted to show them some more of the state.
Alaska is a very remote state, and there aren't roads between many of the cities. In order to traverse most of Alaska, you are limited to dog sled, bush plane, or cruise ship. When my two brother-in-laws came up to visit us in Anchorage, we knew we wanted to show them around via cruise. Primarily because we love cruises so much, but also because it is much more economical. One way cruises between Canada and Alaska tend to be much cheaper than their round-trip Seattle counterparts.
In order to keep the price down even more, we opted to do a single cabin for all four of us. All four of us were fully grown adults; ages 27, 27, 21, and 19. If you have ever taken a cruise before, you likely know that the cabins are not super spacious. It can occasionally feel cramped with just two adults, let alone four, but we wanted to see if we could make it work. Ultimately it did work out just fine, but we are also a very close family, and three of the four of us are on the smaller side.
When booking a cruise cabin for more than two people, there are generally two options. The first is to have a room with a pullout sofa bed. If the room is designed to sleep three, the sofa bed will pull out to a twin mattress. If the room sleeps four, the mattress will be a slightly larger double. The other option, and what we went with on this trip, is a pullman bed. These beds are sort of like bunk beds in appearance and pull out from the wall. During the day the room steward folded the bed back into the wall, and remade it while we were at dinner each night.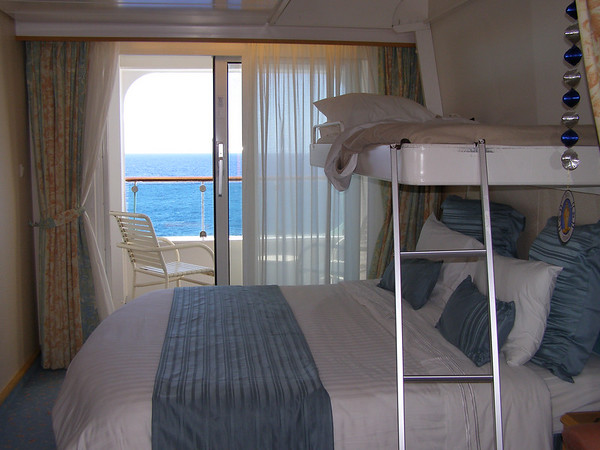 Pullman beds do have a weight limit and generally are better suited for younger or smaller passengers. We did not have any complaints or issues, but it is definitely not something that every family would handle well. Whether it is better to get two cabins or share one is a decision unique to every family and every trip, and we'd be happy to help you make the best decision when planning your own adventure.
Below you can see our full itinerary along with links to more detailed reviews and pictures of each day. If you are ready to book your own Alaska cruise, contact us today.
| Date | Itinerary |
| --- | --- |
| May 25th, 2016 | Alaska Wildlife Conservation Center and Whittier |
| May 26th, 2016 | Train to Seward and Exit Glacier |
| May 27th, 2016 | Sea Life Center and Boarding the Radiance of the Seas |
| May 28th, 2016 | Hubbard Glacier |
| May 29th, 2016 | Juneau - Mendenhall Glacier and Nugget Falls |
| May 30th, 2016 | Skagway - Alaskan Hikes |
| May 31st, 2016 | Icy Strait Point - Hoonah Whale Watching |
| June 1st, 2016 | Ketchikan - Snorkeling... in Alaska?!? |
| June 2nd, 2016 | Cruising the Inside Passage |
| June 3rd, 2016 | Arrival in Vancouver |