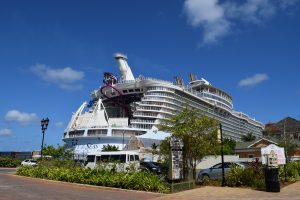 Shortly after announcing the 2019/2020 Deployment Royal Caribbean made a surprising announcement. Four ships – the Majesty, Enchantment, Empress, and Vision – were having their deployments changed starting next year. Unfortunately, this also affects a large number of 2018 and early 2019 sailings that have already been reserved. Some of the cruises affected are cancelled, while others will just have itinerary changes or be moved to a different ship. See below for the current list of cruises that are impacted. All cruises affected by this change will be locked until Tuesday, November 21st. At any point after November 21st, you can make a new reservation if you are affected by these changes.
Empress of the Seas
Empress of the Seas will be moving from Tampa to Miami in May of 2018. All Empress sailings from May 9th, 2018 to March 30, 2019 will be changed to the Majesty of the Seas instead. In addition to changing ships, at least five sailings have had their itinerary changed. The sailings on June 25th, August 6th, September 3rd, September 17th, and October 1st will be changed.
Enchantment of the Seas
Enchantment of the Seas was originally supposed to move from Miami to Galveston, Texas in 2018. Instead, it will be moving to Port Canaveral (Orlando), Florida. Sailings from May 4th, 2018 to April 19th, 2019 are affected. Most of these cruises, including the 9 Night Panama we were so excited about, have been cancelled. Some others will be moved to the Vision of the Seas instead.
Majesty of the Seas
The Majesty of the Seas will move from Port Canaveral to Tampa starting May 7th. Many of the affected cruises will be switched to the Enchantment of the Seas although some cruises will be cancelled.
Vision of the Seas
The Vision of the Seas will move from New Orleans to Galveston. So far Royal Caribbean has only confirmed that cruises starting in March of 2019 will be impacted. This will leave New Orleans without any ship from Royal Caribbean's fleet. The Vision of the Seas was also expected to go to Barcelona, Spain for European cruises in 2019; no official confirmation yet how these changes will affect those plans.