Luis and I recently had the pleasure of flying on Asiana Airlines from San Francisco to Shanghai, via Seoul. As this was our first international flight, we upgraded the first leg to Asiana's premium economy product, Smartium Economy. Smartium Economy is a fairly new product, which Asiana launched this past May on their newly delivered A350s. Since it is so new, there was not a lot of information available when we were first booking our flights. We were very excited to try this new product, even without knowing fully what to expect. We also wanted to see what the standard economy product was like on Asiana to compare the two offerings. With this goal in mind, we purchased the upgrade to Smartium Economy for the first of our four legs; travelling from San Francisco to Seoul. We were also able to get a very good deal on the flights by combining Google Flights with the travel rewards bonus of the Chase Sapphire Reserve.
Smartium Economy
The first important thing to note is that the seats in Smartium Economy are the same seats as in standard economy. Both Smartium Economy and regular Economy are configured 9 seats across, in a 3-3-3 setup. The seats are 18 inches wide in both cabins, which is nice as some airlines are shrinking seat width to 17 or even 16 inches. There are 4 rows of Smartium Economy seats, row 10 through row 14, for a total of 36 available seats.
Benefits
What Smartium Economy offers over it's cheaper alternative is an additional 4 inches of leg room; increasing from 32 inches in Economy to 36 inches in Smartium Economy. Smartium Economy also offers an in-flight amenity package that includes an eye mask, toothbrush, tooth paste, and business class slippers, as well as a blanket and pillow. Standard economy seats, on the other hand, offer only the pillow, blanket, and economy slippers. I personally always travel with my own sleep mask, and did not feel that there was a particularly noticeable difference in the slippers offered in Smartium versus economy.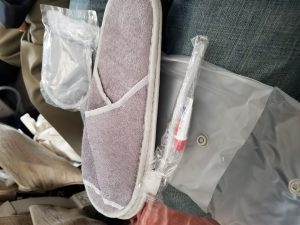 On the ground there were a few additional benefits as well. Smartium Economy passengers receive priority boarding at most airports that Asiana serves, and also qualify for access to the Asiana lounge at Seoul. This latter perk does come with a fairly major caveat, however. You are only entitled to access if you are booked in Smartium Economy for a long haul flight departing Seoul. This would be a flight to the United States, Europe, or Oceania. This means that even though we had purchased Smartium Economy on a long haul flight, since it was from San Francisco to Seoul, we were not permitted into the lounge. This was disappointing, especially since the cost of a Smartium Economy seat is the same inbound and outbound but the offered perks are diminished.
Cost
Smartium Economy is currently on a flat rate pricing structure. Long haul flights, which are any flights outside of Asia, are $150 US per seat. Flights within Asia are either $30 for Japan, China, and northeast Asia, or $60 for flights to or from the rest of Asia. This is pretty much on par with the cost of economy plus or premium economy seats on US carriers. For example, prices for Economy Plus on an upcoming United flight start at $159 for transpacific, and $49 for domestic.
Value
Ultimately I did not feel that Smartium Economy was worth the cost, especially when flying from the United States. We never really used the additional amenities, and I did not really notice a difference in the slippers offered in economy versus Smartium. Surprisingly, I also didn't really notice the extra leg room. Normally I feel fairly cramped on airplanes, but the 32 inches of leg room offered in regular economy felt comfortable. Many American carriers now have a seat pitch of only 29-31 inches, so Asiana's standard offering already felt like an upgrade. Priority boarding also felt unnecessary. Despite the large number of passengers needing to board, the process was incredibly quick and smooth. Also, the A350 offers ample storage space for bags, so boarding early did not offer much of a benefit.
The best potential benefit would be access to the lounge in Seoul, but the value of that perk depends largely on how long of a layover you have. It is also important to note that the lounge accepts Priority Pass. That means you may already have access, even without spending the $150 on Smartium Economy. I highly suggest you apply for a travel card with Priority Pass as a benefit if you don't already have one.
The Asiana Experience
Overall, Asiana was an excellent airline to fly. Compared to the legacy carriers common in the United States, Asiana was significantly nicer. The seat size, even in standard economy, was comfortable at 18 inches wide and 32 inches deep. Boarding was also very quick and efficient. We started boarding 30 minutes before takeoff, with one line for Smartium and one for economy. In less than 20 minutes everybody was in their seats and the flight attendants were making their initial rounds to prepare us for an on time departure. The flight attendants were also very professional and friendly. They did not all speak fluent English, which was not unexpected on a Korean based airline, but there was never any problems with communication.
Meals
On the transpacific flight we were given two full meals as well as a snack. The first meal was offered shortly after we reached cruising altitude, and was a choice between a Korean bibimbap or a steak and veggies dish. Both entrees were served with a biscuit, shrimp slaw, and a small desert cake. We were served the second meal two hours before our scheduled landing. We had a choice of a fish meal or a chicken lasagna. The snack was finger sandwiches and was offered midway through the flight. The meals on the return flight included a spicy beef and rice dish for the first meal. Since we were landing in the morning, the second meal offered was a breakfast omelette.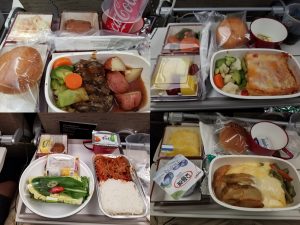 The flight from Seoul to Shanghai was significantly shorter, just over 2 hours. Because of the short flight time I was not expecting anything more than the standard offerings of peanuts or cookies that we expect domestically. Instead we were given a snack that included a yogurt and a pig in a blanket. On the return flight the snack was a beef and rice dish served with a muffin and fruit cup. The meal offerings were plentiful and spaced perfectly throughout the flight. The seats in economy, and even in Smartium Economy, were a little cramped when trying to eat a meal, but nothing too unpleasant.

In Flight Entertainment
Each seat had a 12 inch touch screen entertainment center in the seat back in front of them. The entertainment center had options for movies, tv shows, music, games, flight map, and communication. A remote was also offered which was useful for some of the games, but for the most part I found the touch screen to be most convenient. The movie selections were excellent, with a variety of options ranging from recent blockbusters to classics. There were several movies with English, Korean, Chinese, or Japanese audio and enough selection for me to spend the entire flight watching movies. I have a hard time sleeping on planes, so I ended up staying up and watching movies for the entire 12 hour flight. There was a total of about 30 English movies available.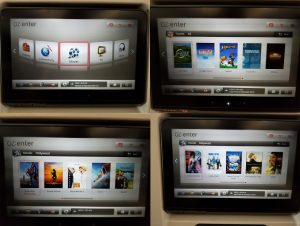 Asiana also offered earphones in each seat, although I found the audio quality to be lackluster and ended up using my personal earbuds the entire flight. The entertainment center had a USB slot next to the headphone jack to charge a device. There was also a universal plug between the seats for devices that couldn't be charged via USB. The games available on the entertainment center included several casual puzzle games, such as solitaire and sudoku. There was also a golfing game and a couple of basic platformers. These games seemed to work much better with the available remote than the touchscreen. Wi-Fi was available for the duration of the flight, ranging from $12 for 1 hour to $22 for the entire flight.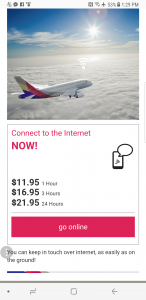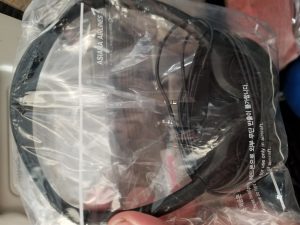 The Airbus A350
Asiana's Airbus A350 was an extremely comfortable plane. The bulkheads offered ample storage which made the boarding process extra smooth. People could easily find space near their seats and quickly store their carry-ons. Take off and landing was also incredibly smooth, probably the smoothest experience I have ever had on a plane. Despite the large engines the noise was almost non-existent.
The one main downside to the plane was the climate control. Unlike most other aircraft, seats on the A350 do not have individual climate control. Instead, the entire cabin's climate is controlled by the flight attendants. On our flight to Shanghai I was quite comfortable, but it depends highly on the crew. Our return flight was much warmer than I am used to on a flight. I walked past the galley on a trip to the bathroom and was able to see the thermostat. The economy cabin was set to a rather toasty 78 degrees. Personally I would much rather having my own control over air to my seat, or for the cabin temperature to be colder. It is easier to add blankets or a jacket to warm up when cold than it is to cool down when the plane is too warm.
Conclusion
Overall our experience on Asiana Airlines was exquisite. The seats were comfortable, the food plentiful, and the in flight entertainment was vast. Despite the extremely long flight, the journey was comfortable and we were entertained throughout. Asiana's economy product was more than comfortable enough for a transpacific flight. I would not hesitate to fly Asiana again, although I most likely would not pay for the Smartium Economy upgrade next time.