Planning an international trip is a very exciting time but it also takes a lot of preparation. You may want to learn a few key phrases in the local language. You might want to stock up on some local currency or map out your planned stops. A passport is definitely a must-have, but is a passport enough? Nothing would be worse than getting to the airport, excited and ready to see another country, and being turned away at the check-in counter. "I'm sorry, but you can't board. You need a Visa."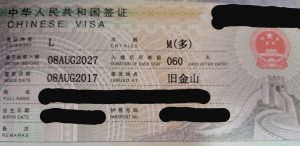 What is the purpose of a Visa?
A Visa primarily serves as a way for a country to control who can and cannot enter. Visas often have certain restrictions on them, such as duration or purpose of visit. The specific Visa, if any, required for international travel will depend on three factors. 1) The country where you have citizenship. 2) The country you are traveling to. 3) The reason for your visit. It is important to note that you will need to apply these rules to every country you will be entering, even if it is not your final destination. For example, some countries will require a Visa even if you just have a short layover while flying to another country.
How do I know if I need a Visa?
We will be happy to help you determine the Visa requirements for any travel, but the best and most up to date source is your country's immigration or consulate department. For United States citizens, this resource is the State Department. You can search for any country on the State Department's website and find nearly all the travel information you will need. Not only will you find out if you need a Visa, but it will also display any travel advisories that are in effect, how long your passport has to be valid for, how many blank pages are required in your passport, and any monetary limitations on entering or exiting the selected country.
It is important that you check the rules for the country listed on your passport. It does not matter what country you are traveling from, or where you live. The only thing that matters is where you are actually a citizen.
How do I get a Visa?
Typically in order to get a Visa you must make an appointment at an embassy or consulate of the country you are visiting. Some countries also allow for you to apply for a Visa online or when your flight arrives in the country. If you are visiting a country that does not support Visa on Arrival or e-Visa programs, you may also be able to hire a Visa service. These are special companies located in major cities that are home to several embassies and consulates. They can take your passport and Visa application to the embassy in person and complete the process on your behalf. These services do, however, add some significant cost to the Visa application process. Still, if you do not live near an embassy it can be necessary.