October 14, 2017
Cruise Compass

A Change in Plans
When this cruise was first announced, day 2 was supposed to be a stop at Jeju Island, South Korea. Unfortunately, due to political pressure Royal Caribbean had to stop all visits to Korean ports when departing from China. This change had already been made by the time we made our reservation, so it was not a deal breaker for us. Instead we spent our first full day on board the Quantum of the Seas just cruising.
Sea days can often be a lot of fun, especially on a ship as massive as the Quantum of the Seas. There is so much to do and so much to see that often a sea day can be just as enjoyable as a stop in port. One of our previous cruises was on another Quantum class ship, the Anthem of the Seas, so we were mainly interested in seeing what was different on board the Quantum of the Seas.
Differences on the Quantum of the Seas in China
The Quantum class of ships are all filled with a variety of great activities on board. There is the North Star observation capsule, which rises 300 feet above the ship. This offers amazing 360 degree views, and can also rotate over the sides of the ship. On the Anthem of the Seas the North Star was free, although primetime reservations (sunrise and sunset) had a nominal fee. On the Quantum of the Seas, however, it was a paid attraction for all reservations.
Another attraction that was free on the Anthem but paid for on the Quantum was iFly, an indoor skydiving simulator. Riding the bumper cars in the Seaplex Sports Center was also a paid activity on Quantum but free on Anthem. The other activities located inside Seaplex, roller skating and trapeze school, were still free.
On this particular sailing, the indoor Solarium pool area was also restricted to guests staying in suites. This really caught us off guard, as it had not been reported on previous sailings. Typically, the Solarium is reserved for adults 16 and older only, regardless of which cabin they are staying in. We had booked a suite, so this didn't impact us, although I really wish Royal Caribbean had announced this fact at time of booking.
Dining Differences on the Quantum of the Seas
One of the big things that was different on this sailing was what Royal Caribbean calls Cosmopolitan Dining. This is a mixture of their normal Traditional and My Time dining options. With Cosmopolitan Dining there were two dinner time slots, 5:45 PM and 8 PM. You were assigned one of the two times, like Traditional dining, but could show up at any restaurant and were given the next available table, like My Time. Ultimately I'd consider this a fiasco. The lines to get in were chaotic and made dinner a stressful affair.
Cosmopolitan Dining was an alternative version of Dynamic Dining, which we personally enjoyed on the Anthem. Most people, however, did not enjoy the experience and Dynamic Dining was removed on all ships except for Quantum of the Seas. Currently, Quantum of the Seas is the only ship with Cosmopolitan Dining.
The specialty restaurants also received a bit of an overhaul for Chinese sailings. Johnny Rockets was replaced with a Kung Fu Panda Noodle shop, which was really good and reasonably priced. Wonderland was renamed Dadong Wonderland, and the creative dishes were all completely revamped for the Chinese market. Finally, the Solarium Bistro became a specialty restaurant for lunch and dinner, serving a traditional Hot Pot buffet.
The rest of the specialty restaurants remained mostly the same, although some menu items were replaced with more traditional Asian fare. All restaurants on board, including the Windjammer buffet, had a good combination of Asian and Western food.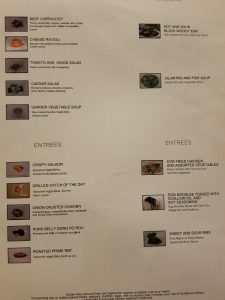 Television
With so much to do on board the Quantum of the Seas, sitting in our room watching TV might seem odd, but sometimes it is nice to just lay back and relax in privacy. Surprisingly, I found the TV selection on this cruise better than normal for Royal Caribbean. There were a wide variety of both English and Chinese channels, including 4 movie channels in English. Two were showing primetime movies while the other two showed family friendly movies and Dreamworks movies respectively. There were also news channels, cartoons, and channels with information about the ship and ports.
We were still recovering a bit from jet lag after our long flight, so we mostly just spent the day relaxing. We ate lunch at the Panda Noodle House, relaxed in the hot tubs in the Solarium, and enjoyed a comfortable bed with some good movies before falling asleep. In the morning we would wake up to Japan, and our first port day on this cruise.