Animal Encounters in Asia
8. Breakfast with Orangutans – Singapore Zoo, Singapore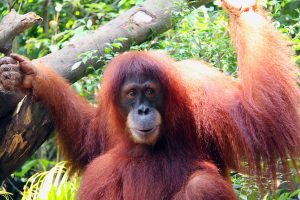 The Singapore Zoo has widely been named the best zoo in Asia. The zoo has over 300 unique species, with 16% of the animals considered threatened and part of the zoo's conservation efforts. In honor of these conservation efforts, the Singapore Zoo was named as a sister zoo to Australia Zoo by Steve Irwin. The animals are all housed in spacious, natural habitats, and much of the zoo's grounds have been kept undeveloped to maintain the natural beauty and serenity of the Upper Seletar Reservoir.
Aside from the standard education and animal viewings typical at most zoos, Singapore Zoo offers a unique animal encounter. Every morning from 9-10:30 AM you can enjoy a breakfast buffet along with a family of Orangutans. The Orangutans are present from 9:30-10:00 AM, and the cost is approximately $26 per adult. Admission to the zoo is required and not included, but if you are an animal lover the Singapore Zoo is easily one of the best places to see a whole world of wildlife.
9. Care for Elephants – Elephant Nature Park, Chiang Mai, Thailand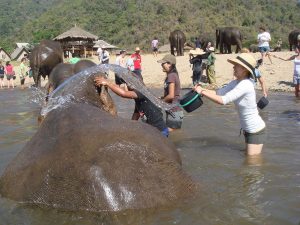 Elephant Nature Park is a unique elephant sanctuary that aims to end the dangerous practices common with elephant tourism. Unlike many other elephant "excursions" in Thailand, Elephant Nature Park does not sell elephant rides. They do not harm the elephants, have forced breeding, or make the elephants perform tricks. Instead they are a true sanctuary, taking in abused or abandoned elephants and caring for them.
As a "tourist" in the park you will actually help care for the elephants. Accompanied by a professional guide, you can help feed and bathe the elephants. Instead of just being a tourist you get to be an ally, helping animals who have been injured, abused, and mistreated before finding sanctuary. The park offers day, overnight, and multi-night visits, so you can spend as much time caring for the elephants as you would like.
10. Cats, Foxes, and Bunnies, Oh My! – Japan's Animal Islands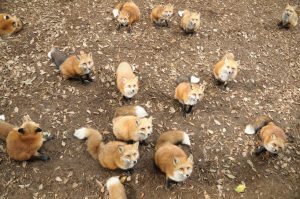 Japan has a number of really interesting animal encounters. First up is Zao Fox Village, located in the Miyagi prefecture about 400km north of Tokyo. There is an area that is sort of like a petting zoo where you can hold and pet foxes, rabbits, and other animals, but the main experience is through a door and into the open wilds. The preserve is a completely open area where the foxes are free to roam. Some may come up to you while others may be shy, but it is important to remember they are wild animals and you shouldn't try to grab them. You can purchase a package of fox food for just under a dollar, but again, do not try to hand feed. Instead, toss the food to the foxes and allow them to eat on their own terms.
Aside from the Fox Village there are also a number of "Cat Islands". These are islands where stray cats have taken over. Most famous of the Cat Islands are Aoshima Island and Tashirojima Island. Cats were originally brought in to help control pest populations, and have thrived as the locals believe feeding the stray cats will bring luck and fortune.
Finally, there is Okunoshima, the Bunny Island. Okunoshima has a bit of a dark history. It was a secret testing ground for the development of chemical weapons after World War 1. Many rabbits were killed on the island during chemical testing, and after the plant was shut down the island was turned into a park. Today there are thousands of rabbits enjoying their island home and the food brought to them by tourists.