4. Swim with Manatees – Crystal River, Florida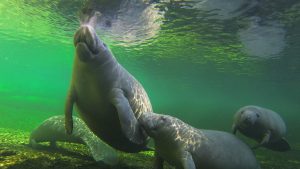 The manatee is an endangered sea mammal with approximately 13,000 spread between the southeastern United States and Central and South America. Nearly half of those live in Florida, with over 1,000 of them in the springs of Crystal and Homosassa Rivers. There are a number of tour operators in the area that will take you to popular manatee feeding areas. Once there you have the option to swim, kayak, or boat up close and personal with the gentle creatures in their natural habitat.
Don't forget your underwater camera to get some amazing, once in a lifetime photos.
5. Swim with Pigs – Bahamas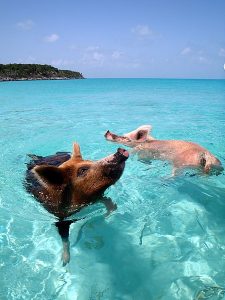 Unfortunately, in February 2017 seven of the swimming pigs were found dead. A necropsy found the most likely culprit was ingestion of a large amount of sand when eating food left on the beach by tourists. New rules are being drafted to help protect the pigs, but if you visit it is best to leave the food at home or on the boat. The Bahamian government and local tour operators are respectful and protective of the pigs. If more deaths occur or new rules are not enforced, this entry will be replaced with another wildlife encounter.
On the small uninhabited Bahamian island of Big Major Cay there are a group of unlikely swimmers. A handful of pigs have taken to frolicing on the beach and in the surf, happily swimming with anybody in the water. The pigs are not natives, and their history on the island is a bit of a local legend. Some say they were survivors of a shipwreck, others that somebody wanted to start a pig farm but was unsuccessful. However they arrived, the pigs are now a local feature and appear to love the attention (and food) brought by tourists. The island is only accessible by boat; a full day excursion from Nassau, or by flying into the small airports on Black Point, Farmer's Cay, or Staniel Cay.
While you are in the Exuma district, you can also see the endangered Exuma Island iguanas. Or, if you want to keep swimming, you can swim with nurse sharks at Compass Cay, or turtles at Little Farmer's Cay. The crystal clear waters of the Bahamas make for excellent snorkeling, especially if you are using the full face snorkel mask that I personally love.
Animal Encounters in Africa
6. Trek for Gorillas – Silverback Lodge, Bwindi Impenetrable National Park, Uganda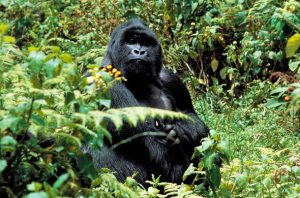 From the sea to the forest, our next stop is to see the mountain gorillas of Uganda. There are less than 1,000 mountain gorillas remaining in the wild today, and half of them live in Bwindi National Park. Silverback Lodge is located just outside the park, and is staffed with knowledgeable guides who will be happy to lead you on the trek of a lifetime. You can see the famous gorillas, as well as wild chimpanzees, other primates, and over 346 species of birds. If you are an avid birdwatcher, the park has 25 different species of birds that are endemic to the Albertine Rift, and impossible to see elsewhere in Africa.
7. Dine with Giraffes – Giraffe Manor, Nairobi, Kenya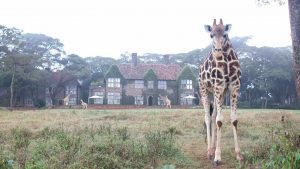 Giraffe Manor is a 6 bedroom lodge located alongside the Giraffe Centre on 115 acres of land. The manor is home to approximately one dozen endangered Rothschild giraffes who are involved in a breeding program designed to increase the population in the wild. Giraffe Manor and the associated Centre are closely aligned with the African Fund for Endangered Wildlife, and all profits go to help AFEW's mission.
Rooms at the Manor start at $550 per night for two people and are all inclusive. There are also occasional specials and discounts available. If that is out of your budget, you can stay anywhere in Nairobi and easily visit the Centre for a $10 entrance fee.