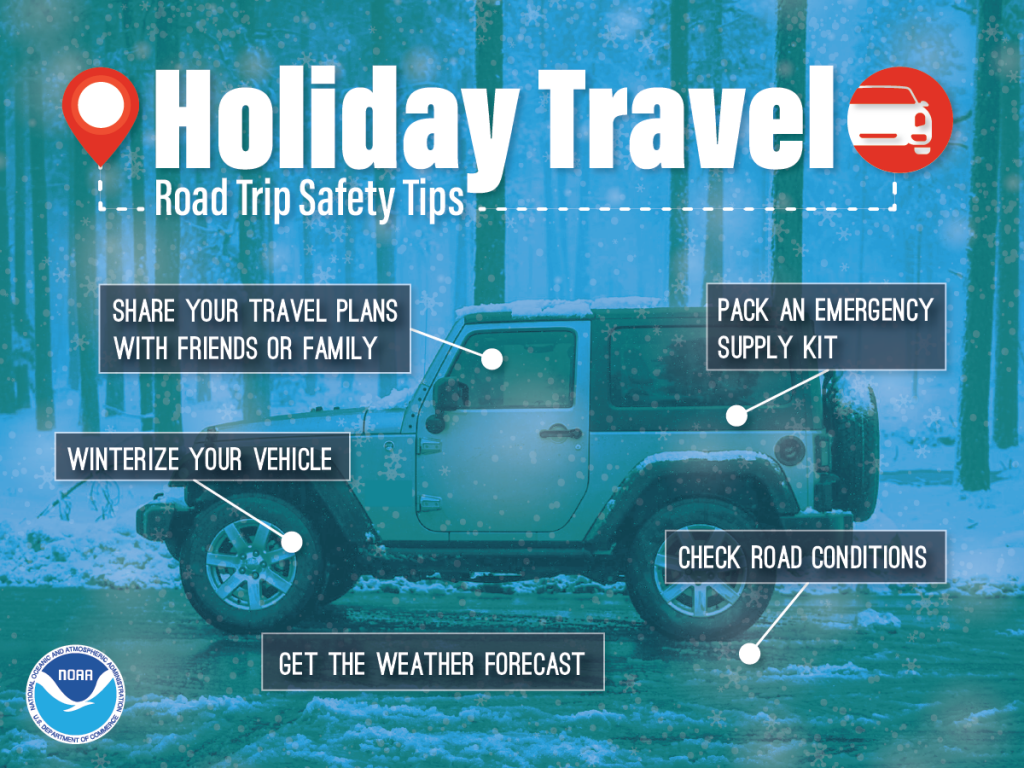 Winter is here, and it is here to stay. If you are planning any travels this winter there are a few tips that are good to remember. No matter if you are traveling near or far, by plane or car, we want to make sure that your travels are safe.
Take Extra Time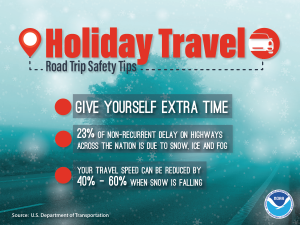 By far the most important rule of winter travel is to take your time. During the holidays especially the roads can be significantly more crowded. An increase in traffic can make your planned drive take quite a bit longer, and you don't want to miss a flight because you arrived at the airport late. Aside from an increase in traffic, the US Department of Transportation estimates that average traffic speed is reduced by up to 64% when snow is falling.
Accidents are also more common during adverse weather; approximately 22% of all vehicle accidents are weather related. An accident on the highway can bring traffic to a standstill and cause significant delays. Being involved in an accident will cause you an even longer delay, or even make travel impossible. Make sure to give other cars on the road plenty of space and never drive faster than conditions allow.
Cars are not the only vehicles that are delayed by adverse weather. Storms can delay or cancel flights, and delays often compound on each other. Even if there are no active storms anywhere along your flight path, planes require de-icing. The de-icing procedure is typically quick, but when hundreds of flights are waiting to take-off it can quickly add up. De-icing is done away from the gate, so the flights are still listed as on time departures, even if it takes up to an hour to actually take off. Make sure you give yourself extra time for any connections
Prepare Alternatives
While giving yourself extra time to travel and make any connecting flights is important, the occasional missed or cancelled flight is inevitable. It is always a good idea to prepare alternatives just in case your plans don't pan out. If driving, know alternate routes and detours, just in case an accident or bad weather closes down the main road. Detours may not always be obvious, and cell signal can be fickle, so it's a good idea to have an atlas or road map available in your vehicle.
For flights, it can be valuable to have an idea of what other flights are available. This way if your flight is delayed or cancelled you already know what your options are to get to your final destination.
Stay Informed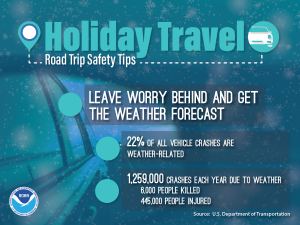 In the days leading up to your travel, keep an eye on the weather reports. It's important to not just look at the weather at your home location and destination, but at various points along the route. It's a very good idea to follow your local National Weather Service office. If traveling domestically, you can also find the NWS office that serves your destination.
Aside from specific forecasts, it's also important to know about any rules that are in effect for a certain area. For example, the Alcan Highway through British Columbia into Alaska requires either chains or certified winter tires on all vehicles from October through March. Across the northern and western United States, there are some roads and mountain passes that may require chains in inclement winter weather. Knowing these rules can not only keep you safe, but can help you avoid large fines.
It is also a really good idea to keep an eye on road conditions. For any state you will be traveling through you can search for "State 511" to get current road conditions. For example, to get the current road conditions in Nevada, you can search for "Nevada 511" which will lead you to http://nvroads.com.
Have an Emergency Kit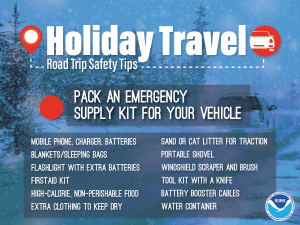 For winter safety it is also a good idea to have an emergency kit packed and stored in your vehicle. You should make sure you have a portable charger or spare battery for your phone to make sure that you can always contact emergency services or family if you run into trouble.
You should also have supplies to help you out if your car breaks down or gets stuck. Standard items such as a jack, spare tire, flares, and a jumper cable are important, but you should also have a portable shovel, tool kit, flashlight, and an ice scraper. The cold can drain batteries, so make sure you have fresh batteries for your flashlight at the start of each trip. It's also a good idea to have sand, cat litter, or gravel to help you get traction if your car should get stuck.
You should also have items to help keep you safe if you get stuck and have to wait for rescue. Blankets are crucial to stay warm without having to have the car running, and water and non-perishable food can be a life saver, especially if you are traveling on roads that don't get a lot of traffic.
Consider Travel Insurance
Even the best made plans can still be impacted by inclement weather, and part of being prepared is knowing what will happen if things go wrong. If your flight is cancelled or delayed due to weather, most airlines will not provide any financial assistance other than rebooking you on a later flight. If you end up needing to spend the night you can be out several hundred dollars for food and a hotel, and if your luggage is stuck you may need new clothes or toiletries.
Airlines won't reimburse you for any of these expenses, but certain travel insurance offerings will. They can also cover you for any non-refundable expenses at your final destination that you missed due to the delay. Travel insurance isn't for everybody, but if you reach out to us today, we can review your plans and help you determine if it makes sense.
Winter travel can be magical, but make sure you reach your destination safely by following these tips. Happy Holidays!