October 11, 2017

Drive to San Francisco
Our day actually began on October 10th, as we made the 8 hour drive from Elko, NV to San Francisco. Knowing that we had 15 hours of flights coming up, an 8 hour drive wasn't the most pleasant. However, one big part of travelling on a budget is making sacrifices. For this trip, the 8 hour drive saved us several hundred dollars on flights, and as such was worthwhile.
The other benefit of making the drive was having a car available to extend our vacation in California. I had never visited California before, so it was a nice extra treat to get to see San Francisco. We stayed the night at the airport La Quinta for free using points, and then decided to park at Anza off airport parking. By choosing off airport parking, we saved over $10 every day of our vacation.
San Francisco Airport
Our flight was scheduled to leave San Francisco just after noon and we were not sure what to expect for an international flight. We decided to leave our hotel early and take the parking shuttle from Anza to the International Terminal. Check in was incredibly smooth; the agent just needed our boarding pass, passport, and Chinese Visa. Thanks to TSA Pre we were through security in no time, and still had a couple hours to spend before our flight.
Aside from the points which got us a 25% discount on our flights, there was one other big perk of the Sapphire Reserve we used this trip. One of the credit card benefits is a Priority Pass Select membership. With this membership we were allowed into the Air France/KLM lounge at SFO. Inside the lounge was plenty of comfortable seating and charging stations for our devices. There was also free beverages and a small salad bar.
The Flight to Shanghai
When it was nearing time for our flight to board we left the lounge and went to our gate. The boarding process was incredibly smooth, and as Smartium Economy passengers we were able to board using the priority line. You can read details about the flight itself on our detailed review.
The flight to Seoul was just under 13 hours. Since I tend to have a hard time sleeping on planes, I spent the entire time watching movies. After we landed and disembarked, we had to go through a small security checkpoint. This was similar to the TSA checkpoints in the US; we had to empty our pockets and send our bags through an X-ray. We then went through a metal detector and had our passports scanned. The process was really quick; there were 4 security lines open and only passengers with a connecting flight had to go through security.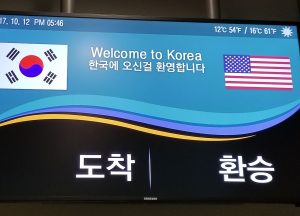 One thing that was really interesting was the fact that, because of the timezones, we never actually saw the sun set. The flight attendants made sure all the window shades were closed, but based on local time the sun never set until we reached Shanghai. We also lost a day flying over the international date line. Despite the fact that the flight was only 13 hours we landed in Seoul at about 6 PM on October 12th.
Shanghai
Our second flight was just under 3 hours, and with the time change we landed in Shanghai at nearly 10 PM local time. Chinese customs, immigration, and baggage claim did not take too long, and we had reservations at an on site hotel. Signage was a bit confusing, but eventually we found the hotel right in the middle of the hallway connecting the two terminals.
While trying to check in, we learned a valuable lesson. In China, lines are non-existent at best and actively ignored at worst. We tried to give a respectable distance to the people currently checking in and instead the people who came in behind us just pushed their way up to the desk. Eventually we got checked in and received our room key, although there was one small issue. The employee did not seem to understand same-sex marriage. She became really concerned and that somebody had mistakenly put us in a room with only one bed. With the language barrier it took some time, but we finally explained that we wanted only one bed.
At this point it was nearly 7 AM back home, so we had been awake for a full 24 hours. Our room was number 8258, so we assumed we were on the 8th floor. We went up to the 8th floor to find out that the airport hotel started all rooms with the number 8; lucky in Chinese culture. We figured this out and went to the 2nd floor, where we found our room. For the price and convenience, the room was really quite nice. Finally, we could lay down and get some solid sleep.