Hawaii is one of the most popular destinations in the world, and for good reason. We went to Honolulu ourselves in 2016, and thoroughly enjoyed every minute of our time on the island. It is a tropical island paradise that can compete with any destination in the Caribbean, yet finding a cruise to Hawaii is surprisingly difficult. Part of the reason for this is Hawaii's distance from the continental United States; over 2,600 miles as the crow flies from Southern California. This comes out to about 2,250 nautical miles, which will take an average cruise ship between 100 and 120 hours to cross. That comes out to 5 full days at sea to get to Hawaii, and another 5 to return to California.
Distance is not the only problem facing cruise companies that want to visit Hawaii. For various legal, financial, and logistical reasons most cruise ships are foreign flagged vessels. This means that they are restricted by the Passenger Vessel Services Act of 1886. This law bans any vessel that isn't built in the US and owned by a US based company from transporting passengers between two different US ports. This act also says that a cruise that leaves from and returns to the same US port must visit a foreign port, so even if a ship were to make a round trip cruise from Honolulu, it would have to visit a port outside the United States. The closest such port is Tabuaeran on the Fanning Atoll, a full 4 days away from Honolulu.
Options for Cruises to Hawaii
Despite these difficulties, many cruise lines do offer cruises to Hawaii. If you want to take one of these magical adventures, you have four main options. A world cruise, a re-positioning cruise, a multi-week California to Hawaii cruise, or a 7 night round trip Honolulu cruise on board Norwegian Cruise Line's Pride of America.
World Cruises
The most expensive and lengthy option for a cruise to Hawaii is a world cruise. These cruises are measured in months, not days and range from a 59 nights to 161 nights. The price of these cruises range from $22,000 to $80,000 per person. On these cruises, Hawaii is just another port, but what a way to see the islands.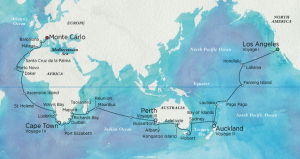 Re-positioning Cruises
Some cruises are only able to run part of the year, so cruise lines need to move their ships. Alaska cruises are one of the most popular seasonal cruises and can only sail from May through September. When Alaska gets too cold, the ships relocate, often to Asia or Australia. This path across the Pacific takes them right past Hawaii, so it is a natural stop to break up the long cruise. It takes about 6 or 7 days for a cruise to reach Hawaii from Seattle, Vancouver, or Anchorage, and another 7 or 8 days to reach the South Pacific.
These cruises can be run in one of two ways. The first option is a longer cruise, often at least 21 nights with Hawaii as a mid-point stop. The second option is to split the cruise into two separate cruises. The first cruise would end in Honolulu and the second cruise would begin there. Often at least one of these cruises would island hop to multiple cities in Hawaii.
Round Trip California Cruises to Hawaii
These cruises are offered on Princess, Holland America, Oceania, Crystal, and occasionally Celebrity. There are two main itineraries available; a 15-17 night cruise from California to Hawaii, with a stop in Mexico, or a 28+ night cruise to Hawaii, Tahiti, and the South Pacific. Most of these cruises depart from Los Angeles, while a few leave from San Francisco or San Diego. The shorter cruises stop at Ensenada, Mexico, a city known locally as La Cenicienta del Pacifico, or "The Cinderella of the Pacific". Ensenada is not a particularly popular destination, but it does have its charms. The city is working hard to improve their offerings, and they have some of the best street food in Mexico.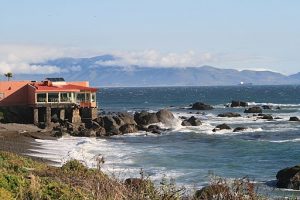 Round Trip Honolulu Cruises
There is one, and only one, cruise line that offers regular round trip cruises from Hawaii. If you want to take a typical 7 night cruise from Honolulu to the other islands, Norwegian is it. In order to get around the regulations of the Passenger Vessel Service Act, NCL had to take several steps. First, they had to create a new company, NCL America, that was headquartered in the United States. Second, they had to have a ship that was US built, US flagged, and manned with US crew. Ultimately this ship became the Pride of America. Construction was finished in 2005, and she has been sailing the Hawaiian Islands for the past 13 years.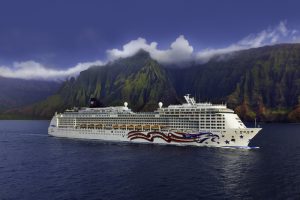 Pride of America runs the same itinerary year round, leaving Honolulu every Saturday. The cruise overnights in Kahului, Maui, then visits Hilo and Kona on the Big Island, and finally overnights in Nawiliwili, Kauai. Since there is no competition, these cruises can be a little more expensive than other 7 night sailings. At the lowest end you are looking at about $2,500 for two people in an interior room. A balcony room will start at closer to $5,000 for two people.
The Best Time for a Hawaii Cruise
If you are planning on taking a re-positioning cruise to Hawaii you will be severely limited. These cruises are set based on the Alaska cruising season, so your choices are typically March/April or September/October. These months also have the benefit of being in Hawaii's low season, so flights and hotels will typically be cheaper. If your cruise is one of the ones that ends or begins in Hawaii, this can be really helpful.
If you are planning on taking the Norwegian cruise, these months can still be a great choice. Since airfare is often cheaper in the shoulder months, the higher cost of the cruise can be offset a bit. The rest of winter can be another great choice to escape to a warm tropical paradise. January through March is Hawaii's high season, so it may be more expensive and more crowded, but it can be a great respite from the cold.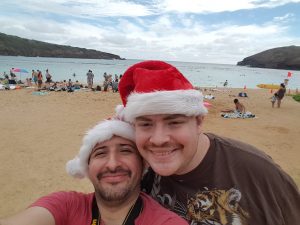 If you'd like to plan your own adventure to Hawaii, send me a request. I'd be happy to find the perfect Hawaiian cruise for you and your family.