December 5, 2016
Diamond Head State Monument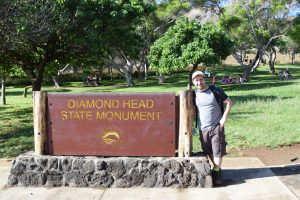 On our second day in Hawaii we decided to start off with a hike up Diamond Head State Monument. This relatively short but steep mountain hike goes right up to an extinct volcanic crater and offers stunning views of Honolulu and the Pacific Ocean. It is an incredibly popular hike, especially on weekends, so we arrived as soon as the park opened. This allowed us to avoid the crowds as much as possible.
The hike took about 2-3 hours round trip, but the views were amazing. While Oahu isn't known for volcanoes, Diamond Head is a majestic and wonderful hike. No trip to Oahu would be complete without a visit to Diamond Head.
Polynesian Cultural Center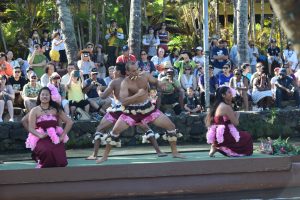 After we finished our hike of Diamond Head we headed north to the town of Laie. This is home of the Polynesian Cultural Center, a Polynesian themed living museum. The center is owned and operated by the Mormon Church, which I did not realize at first, but it is a really impressive and enjoyable look into native culture.
The center is split into 8 villages; one for each of the major Polynesian cultures. There is also a river that runs through the park where they run traditional canoes and do occasional performances on the water. Around dinner time there is a Luau where they cook a traditional kalua pig. After dinner there was also a fire dance performance that was a lot of fun to watch.
At the end of the night we went to their traditional Polynesian show, Ha – Breath of Life. This was a play that combined stories and music from all the Polynesian cultures into one show. I did find it a bit difficult to follow, but the performance was extremely skillful and a lot of fun to watch.