October 19, 2017

Disembarking
Our ship docked at about 9 AM and we received clearance from customs and immigration to start disembarking at about 10. There was a very long line to disembark, compounded by our late arrival, and it ended up taking just over an hour for us to get off the ship. Leaving was just about as chaotic as boarding in China. We had to go through immigration and customs once again, and it took us about an hour and a half to get through all the checkpoints.
Once we were out of the terminal it was into another line to wait for a taxi. There was a long line of taxis available at the stand, but also a lot of passengers wanting a taxi. All told it took us just over a half hour to get a taxi, and then an hour to drive to our hotel downtown. There was also a shuttle available to take passengers to Metro Line 3. However, given how packed the Shanghai Metro gets I personally wouldn't want to try and take any luggage on the trains.
Yu Yuan Gardens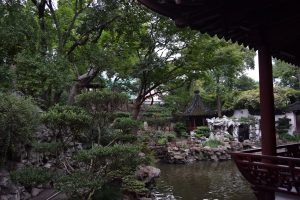 Once we were checked into our hotel, Les Suites Orient Bund, we decided to walk to Yu Yuan Gardens. The gardens are about 5 acres and include a wide variety of different areas, all that are sure to please. We were a little thrown off that there was a shopping area tucked away in the gardens. The English sign identified it only as an art and calligraphy exhibit, but it was actually a shopping area. We were followed closely by vendors trying to sell art, jade jewelry, and other trinkets.
The area outside the garden was a very nice and very popular bazaar. There was a wide variety of shops and restaurants, including a few Western chains. We saw a KFC, a Pizza Hut, and several Dairy Queens. The other restaurants ranged from small basic stalls serving dim sum, dumplings, or deserts to full size sit down restaurants. We decided to try a cafeteria style restaurant that had a wide variety of offerings all served ala carte.
Huangpu (The Bund) River Cruise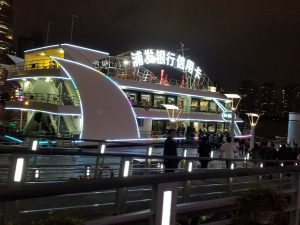 Although night was falling we weren't ready to retire to our hotel room. Instead, we decided to walk a couple blocks from our hotel to the Huangpu River, known locally as The Bund. While walking along the river and looking at the profile of downtown Shanghai, we saw a sign advertising a river cruise. We decided to go to the ticket center and give it a try.
The cruise lasted just under an hour and cost us 120 Yuan each, or about $18. There was a tour guide giving English and Chinese explanations of all the buildings we could see as we made our way up river. After about a half hour the ship turned around and returned the way we came. Throughout the night we had some amazing views of the skyscrapers all lit up. The Oriental Pearl observation tower was particularly impressive.
The Hotel
The hotel that we stayed in was exceptional. We were given a complimentary upgrade to a suite overlooking the Bund and the room was very high tech. All of the lights could be controlled by a control panel near the bed, and the window shades were also automated. We could even control the air conditioner and mark our room as "Do Not Disturb" from our bed. Even the toilet was a high tech Japanese Toto model complete with a bidet.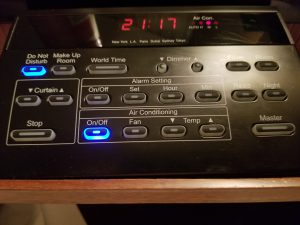 We had no problems with staff not speaking English, and there was an on site restaurant that could be charged directly to the room. Choosing a hotel was probably the most difficult part of planning this trip, as usually we just stick with brands we know well. In the end I think we made a very good choice. The location, amenities, and price were all excellent.