October 15, 2017
Cruise Compass

Arriving in Japan
First thing this morning we had to go through the Japanese immigration and customs process in order to disembark. The process was advertised as starting at 7:30 AM, so we decided to line up at 7, and there was already a bit of a line. Promptly at 7:30 Japanese immigration officials boarded and set up several stations. We had to provide a copy of our passports and have our fingerprints scanned. Once that process was complete we each received a sticker to attach to our passport copy. This sticker would be required to disembark at each of the three ports.
After immigration we had to go through customs. This was basically just asserting that we were not importing any goods into Japan and then we were good to go. The entire process from when the line started moving until we were off the ship took about 20 minutes. By 8 AM we were off the ship and ready to start our first day in Japan.
From Yatsushiro to Kumamoto
Even though the port was advertised as Kumamoto, the ship actually docked in Yatsushiro. The cities are approximately 40 kilometers apart, and driving between them would take just over an hour. Alternatively, there was a bullet trail or shinkansen that travelled between the cities in only 11 minutes. The normal passenger train would also travel between the cities taking 35 minutes. We were planning on exploring Kumamoto on our own, so we decided to take the bullet train.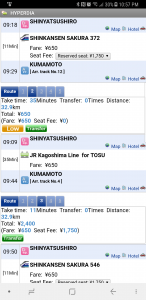 At the port there were a number of taxi drivers waiting. Local port staff were on hand to help translate our destination from English to Japanese so the taxi drivers knew where to go. We were also given a little card that identified us as passengers at the port. This card had English, Chinese, and Japanese, so we could give it to any taxi driver and get back to the ship. This was a really neat gesture and made our return to the ship really easy.
We took the taxi to Shin Yatsushiro station and purchased a ticket on the bullet train. Even with the language barrier, almost all signs in the train station had English and Japanese. We were able to quickly find the right track and board the train. In only 10 minutes we were whisked into Kumamoto proper and ready to start our day's adventure.
Kumamoto Castle
Kumamoto had a wonderful tram system with stops all throughout the city, so we made our first destination Kumamoto Castle. Tragically, a series of major earthquakes struck the city in April, 2016 and the castle was badly damaged. Still, the grounds were open to the public and it was free of charge, so we walked around. Despite the damage, the castle was still incredibly magnificent to see. Many of the signs showed photographs of what it looked like before the earthquake.
There were also several signs explaining the reconstruction process. Despite the loss of tourism revenue, Kumamoto is taking the slow but elaborate process to rebuild. Each stone is properly cataloged with it's location so they can be properly reassembled exactly as it was before. They are also taking the time to determine why the castle was damaged, and what steps if any can prevent future damage. It is estimated that the entire restoration project will last several decades, but it is still an amazing sight.
Famous Ramen of Kumamoto
Kumamoto is famous for two main dishes; Basashi and ramen. Basashi is the Japanese term for raw horse meat, or horse sashimi. I wasn't quite brave enough to try eating raw horse meat, so we opted to find a ramen shop instead.
Kumamoto's unique take on ramen involves using slightly thicker noodles, fried garlic, and marr oil, which is derived from fried garlic. Based on reviews and it's proximity to the castle, we decided to visit Keika, a simple but high quality ramen restaurant. They had a wide variety of ramen and appetizers, and the menu was complete with pictures to help us pick our meal. The price and portions were both excellent, and we left very satisfied. If you have never had the opportunity to try legitimate Japanese ramen, I highly recommend you do so.
Kumamoto Zoo and Gardens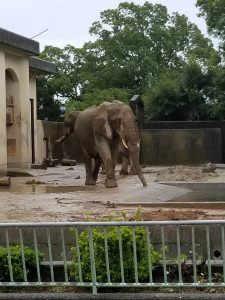 We still had plenty of time and nothing planned, so we decided to do some exploring. We ended up at the Zoo and Gardens, which were normally 400 Yen (about $4 per person). When we arrived we noticed that they were also badly damaged by the earthquake. Due to the damage, only about half of the zoo was actually open, and the entry fee was lowered to 200 yen. While it was still easy to see the care that the locals were putting into repairing the zoo, it was also a bit more depressing than the castle.
We ended up spending about an hour at the zoo before heading back to the tram line to go to the train station. This time we opted for the cheaper, standard train, taking 35 minutes to return to Yatsushiro. Once at the train station it was easy to find a taxi, and giving him our little card from the ship was enough to get us back to the port with no problems.