May 29, 2016
Our first actual port stop on this cruise was the capital of Alaska, Juneau. Visitors can only reach Juneau by plane or ship, even though it is a capital city. There are no roads connecting Juneau with the rest of the state. For many people, ourselves included, the only way to visit Juneau is on an Alaska cruise. There are a number of popular excursions in Juneau, but we decided to visit Mendenhall Glacier.
Mendenhall Glacier is about a 20 minute drive outside the city and as soon as we got off the ship there were dozens of buses and taxis ready and waiting. The buses are the cheapest option, and we bought four tickets on the Big Blue Bus. We paid about $25 per person for a round trip ticket, so $100 for the four of us. Taxis were quoting $40-$50 each way. It is also worth noting that there is a $5 per person charge to enter the area; this is included with the bus fare but is an additional cost when taking a taxi.
From the Mendenhall Glacier visitor center there are 5 trails ranging from a quarter mile to three and a half miles. We opted to do all five hikes and spent a total of about 6 hours around the glacier. Our ship spent a total of 12 hours in the city, so there was plenty of additional time to explore the city itself.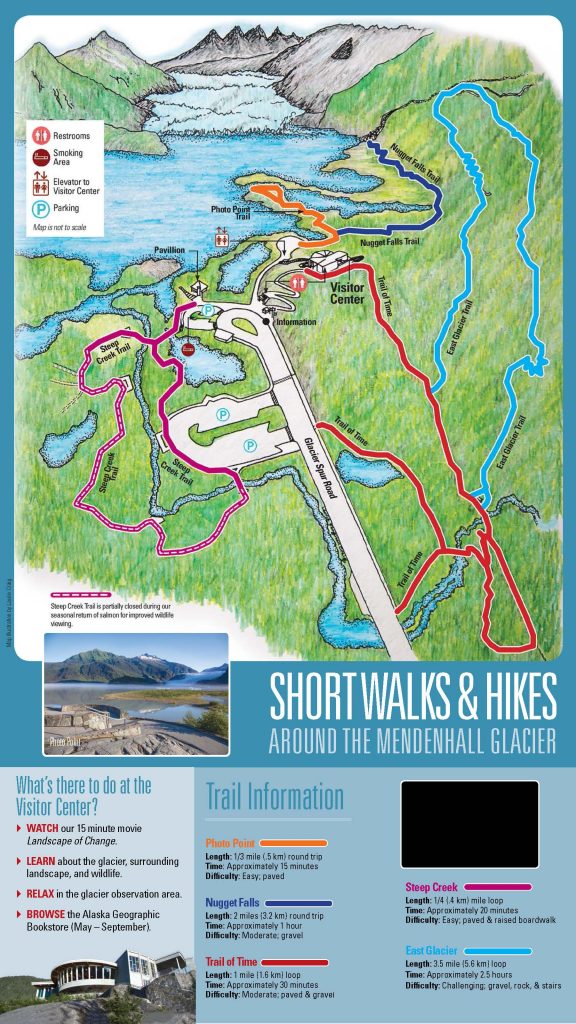 The first trails we took were the Photo Point and Nugget Falls trails. These offer the best viewing and photo opportunities of any of the trails and are both pretty relaxed and easy hikes. Photo Point gets you front and center to the glacier, while Nugget Falls goes right up to a waterfall that is another very popular photo opportunity.
The next trail we took was the Trail of Time, which has some excellent placards showing the regression of the glacier over the centuries. You can view photos showing what the area looked like in various years of the past. The Trail of Time also leads directly to the trail head for the East Glacier Trail which is the longest and most arduous trail as it goes up a bit in elevation.
After we had finished all the hikes we took the bus back to the city and decided to find a place to eat before heading back to the ship. We stopped by the Red Dog Saloon which holds the distinction as the oldest man-made tourist attraction in Juneau. The Red Dog Saloon has a number of really interesting items all around the restaurant, and it's well worth a visit just to see their collection.
selected excursions in juneau from our partners