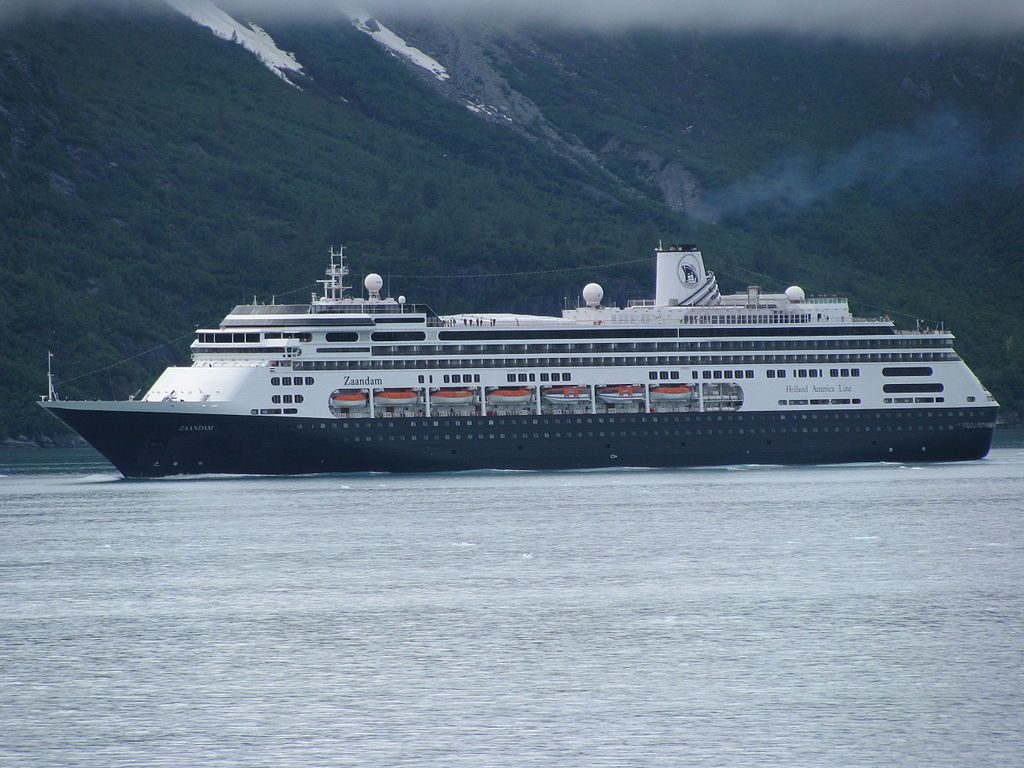 On Monday, May 14 Holland America's Zaandam became the first ship to dock in Anchorage, Alaska for the 2018 cruise season. The MS Zaandam is currently on a 14 day "Great Alaskan Explorer Cruise" from Seattle, and will be returning to Seattle on May 21st. The other ports that Zaandam stops at on this cruise include Ketchikan, Juneau, Icy Strait (Hoonah), Homer, Kodiak, Sitka, and Victoria, British Columbia.
If you are not familiar with typical Alaska cruise itineraries, this is a very special itinerary, and one that the Zaandam will be repeating 10 times throughout the 2018 cruise season. She is the only commercial cruise ship that will visit Anchorage at all in 2018. This surprises a lot of people; not only because Anchorage is the largest city in Alaska, but because often other cruises are advertised as departing from, or ending at, Anchorage. In fact, all other cruises that have stops in the "Anchorage area", actually dock at one of two other nearby cities. Most cruise lines, including Royal Caribbean, Celebrity, Norwegian, Azamara, and Holland America, leave from Seward. Princess Cruises, on the other hand, leave from Whittier.
Why Not Anchorage?
There are a few reasons why cruise ships have historically avoided the Port of Anchorage. A main part of the reason was that prior to 2017, the port facilities just weren't designed with cruise ship passengers in mind. Most of the marine traffic consisted of tankers and cargo ships, and the facilities were designed around those clients. In 2017, however, the city of Anchorage finished upgrades to the port area, and accepted Holland America's ms Amsterdam for 4 cruises in the 2017 season.
Another reason why Seward is more popular with cruise ships is due to location. While Anchorage is a major city with a lot of sights tourists want to see, it is located quite far up the Cook Inlet. Seward, on the other hand, is located right on the Gulf of Alaska, a much larger and deeper body of water. Whittier is located in Prince William Sound, but is much closer to the Gulf than Anchorage, so cruise ships are able to get on their way much quicker. It is about 200 nautical miles from the Port of Anchorage to the Gulf of Alaska. At average speeds, this distance will take a cruise ship at least 10 hours, and often closer to 14, to transit. The ms Zaandam breaks this up a bit with their stop at Homer after Anchorage; another city in the Cook Inlet but much closer to the Gulf.
Which port is best?
When planning an Alaska cruise, many people want to see Anchorage, so it might seem like Holland America is the best bet. However, it is important to distinguish that while the ms Zaandam is visiting Anchorage, the cruises from Seward or Whittier will require you to fly into (or out of) Anchorage. This means that with the ms Zaandam, you have a full day to explore Anchorage, but with the shorter cruises you can customize exactly how many days you spend in the city between your cruise and your flight. We lived in Alaska for a number of years, and would be more than happy to help you plan your perfect Alaska cruise.
Alaska Week!
Now that the Alaska cruise season is in full swing, we are happy to announce that next week we will be celebrating Alaska Cruise Week. Check back each day next week for a new post about planning an Alaska Cruise.