October 13, 2017
Cruise Compass

The Maglev and Shanghai Metro
Despite getting almost no sleep on the plane, jet lag prevented us from staying asleep all night. We woke up fairly early in the morning and decided to try the hotel's breakfast. The selection was a mixture of western and Chinese breakfast items and overall was quite pleasant. At this point it was still really early in the morning, and our cruise didn't depart until 4PM. The earliest we could drop off our luggage and check in was noon, so we had the full morning to explore.
Shanghai has a large and well established train network, with two train lines servicing the airport. The main line is Metro line 2 which goes from the airport into the heart of downtown Shanghai. The other line is the Maglev or Magnetic Levitation train. This train only has two stops, 30 kilometers apart, and can reach a max speed of 430 kilometers per hour or 267 MPH. A one way ticket costs 50 Yuan, or about $8, per person.
We decided to take the Maglev to it's next stop, and then transfer to Metro Line 2 to continue downtown. The two trains could not have been more different. The Metro was incredibly packed with a lot of people pushing to get on and off. The Maglev, on the other hand, was quiet, clean, and had plenty of open seats. The price difference definitely causes some of this, a ride on the Metro is typically less than 10 Yuan per person; many of our rides were only 3 or 4 Yuan. This is only about 50 cents per ride.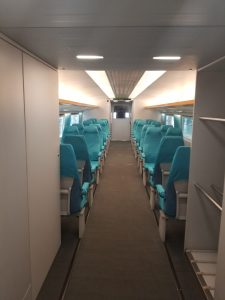 Nanjing Road
We took the Metro to East Nanjing Road, a 3.4 mile pedestrian shopping street in Shanghai. This is one of the busiest shopping areas in the entire world and is filled with all sorts of shops. We weren't going to shop, however, and just decided to walk the road from end to end. Aside from all the shops there were a bunch of people performing out on the street. We saw a number of martial artists going through stretches and stances, as well as exercise and dance groups.
There were a small handful of people targeting foreigners, advertising bags, watches, and jewelry for sale, but they were few and far in between. Also, they were really good at taking no for an answer; we never had anybody follow and continuously harass us. Even though it is a pedestrian road there are a few areas where it crosses main streets. Also, a large number of people in Shanghai ride scooters or mopeds, and they can be a bit reckless. We had to take extra care to avoid being hit by scooters, even when we had the right of way according to the cross walk.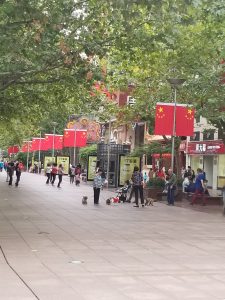 Baoshan Cruise Port
After a couple hours walking Nanjing Road we took Metro Line 2 back to the airport and to our hotel. We checked out and hailed a taxi from the stand by the airport and were on our way to the cruise port. The main cruise terminal is actually quite far outside the city and we had about an hour ride to get there. We found out about 10 minutes in that the taxi driver didn't speak any English and didn't actually know where we were going. Baoshan, the name Royal Caribbean told us, is actually the name of the neighborhood.
There was a bit of trouble getting the right address, but Google Translate came in handy. We were able to determine the local name for the cruise terminal was Wusongkou. Using that, plus the Chinese words for "cruise ship" from Google Translate was enough for the driver to know exactly where we were heading. It was a bit stressful, not being 100% sure we were headed in the right direction, but we got to the ship without any problems. The ride was just over an hour and cost 215 Yuan, or just over $30.
Quantum of the Seas
At the cruise port we were in for a bit of a shock. This was the 6th cruise we have been on, but the check in process was much more complex. There was a priority line for foreigners, as well as suite passengers, and passengers with loyalty status. We qualified on all three parts but even with the priority lines check in still took us just under 2 hours to board the ship.
There were 5 steps we had to go through to complete check in and board the ship. First was luggage drop off, and then a medical questionnaire and general check in procedure to get our room key. From there we had to go through security, then customs, and finally immigration. The process was much more involved than we are used to with a cruise, but once it was all done we were back on board. There's nothing like that feeling you get when you board a cruise ship.