December 4, 2016
Nu'uanu Pali Lookout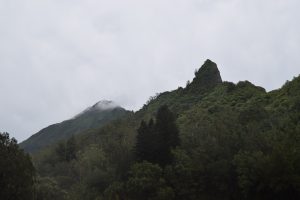 For our first full day in Hawaii we wanted to take an island drive. While most activities are around Honolulu and Waikiki, the north shore is well worth a visit. Our first stop of the day was Nu'uanu Pali Lookout; just a few miles north of Honolulu. This lookout offers amazing views of Oahu's windward coast and Koolau Cliffs. Despite being so close to Honolulu, Nu'uanu Pali feels like a world all it's own. It showcases the truly natural and unspoiled beauty of Hawaii.
The Lookout is also important for historic reasons. It was at this site that King Kamehameha I won the final battle that united the island under his rule. Several hundred warriors lost their lives at these cliffs. It's a sobering fact, but also an amazing juxtaposition. This is a point where past and present, city and nature, war and peace, all come together.
Giovanni's Shrimp Truck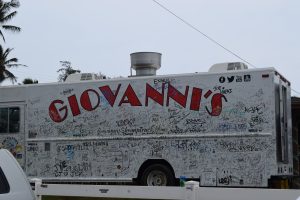 After leaving Nu'uanu Pali, we continued up the Kamehameha Highway towards the North Shore. Right around lunch time we reached a collection of food trucks. While food trucks likely aren't the first thing you think of when it comes to Hawaiian cuisine, there is one that is justifiably famous. Started in 1953, Giovanni's was the first shrimp truck in Hawaii and their recipes quickly became famous. We ordered a plate of garlic shrimp and it was absolutely amazing. The shrimp was still shelled, so it was a rather messy lunch, but it was well worth it.
North Shore and the Triple Crown Surfing Contest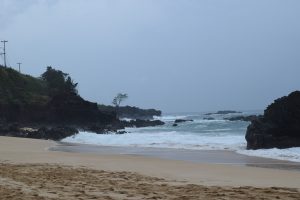 We continued our drive along the North Shore which is famous for its varied beaches and surf spots. Traffic was much worse than we were expecting, but as we later found out it was because of a surf competition. Oahu's north shore beaches have some of the best surf conditions in Hawaii and the views are beautiful.
The three beaches that make up the Triple Crown Surfing Contest are the Bonzai Pipeline, Sunset Beach, and Waimea Bay. When we were there the contest was happening at Sunset Beach, so we instead made stops at the other two. Bonzai Pipeline is often rated as one of the best beaches along Oahu's North Shore, and the shallow reef causes some extremely large waves to break on the shore.
International Marketplace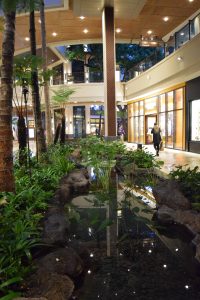 Back in Honolulu after our island drive, we decided to swing by the International Marketplace. This is an open air shopping mall centered around a Banyan Tree with a treehouse. Before 2013 the International Marketplace was a series of international shopping "villages" and the treehouse was a bar. In 2016, shortly before we arrived, the renovation was completed and the International Marketplace reopened. The center treehouse is now a homage to the past, with placards and signs showing the site's history. The mall also had a stream and waterfall and was mostly open to the outside air. It was really unique to be in a mall but still out in the fresh Hawaiian air.