October 17, 2017
Cruise Compass

Arrival in Kochi
Once again our port was somewhat far away from the main attraction, although we did at least dock in Kochi. We docked at 7 AM and were able to disembark at about 7:30. It was approximately a 30 minute drive to downtown from the port, but the city provided a free shuttle service. We boarded a shuttle right outside the ship and then started our journey to downtown Kochi. It was really nice having the free shuttle to and from the ship, but unfortunately we only had about 6 hours in Kochi. Officially the ship was docked for 8 hours, but the last shuttle back to the ship left at 2 PM. Effectively, that meant we had from 8 AM until 2 PM to enjoy the city.
The shuttle let us off at the downtown bus terminal, which was fairly close to the Harimaya-bashi Bridge, one of the stops we really wanted to see. We walked through a pedestrian tunnel and came out right at the bridge for our pictures. Immediately across from the bridge was a city tram stop, which would take us to our next destination in Kochi.
Kochi Castle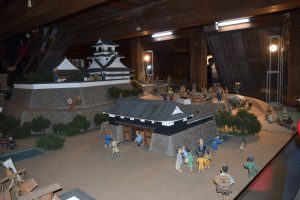 Although we had seen castles in both Kumamoto and Miyazaki, we knew we had to make time to see Kochi Castle. Unlike Kumamoto and Obi, Kochi Castle is still fully intact. In fact, Kochi Castle is one of only 12 castles in all of Japan with a keep still intact from the Edo period. At the castle there was a museum with artifacts from the prefecture and the castle, as well as many informational signs and models inside the castle walls. We were also able to climb several stories to the top of the castle for some amazing views of the city.
Just outside the castle grounds there was also a very nice garden area including a lily pond. It was really neat to see the contrast of a historic castle, surrounded by a quaint park and garden, all in the middle of a city. The combination of old and new, city and nature, was just exquisite.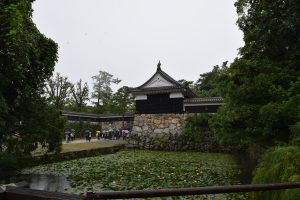 Sunday Market, Hirome, and Obiyamachi Shopping Markets
Just outside the castle we started our walk along three of Kochi's most famous markets. First is the Sunday Market, which despite its name is open 7 days a week. This is an open air market filled with stalls that sell fresh fruits, vegetables, and various knick knacks. The roadside market stretches for just over a kilometer, going from the castle to Hirome Market.
Hirome Market is a small building filled with over 60 different shops, bakeries, and restaurants. In many ways it reminded me of Redding Street Market in Philadelphia or Pike's Place Market in Seattle. We walked around the shops and grabbed a few souvenirs, but the main draw was the food court. Hirome was filled with all sorts of different food options, from Indian, to yakitori, to ramen and sushi. We tried a few different items as it was really easy to get small portions for reasonable prices.
As we left Hirome it led into another shopping street, Obiyamachi. Obiyamachi is a covered shopping arcade with all sorts of different shops. We passed a number of clothing stores, some convenience stores, a few restaurants, and even a Rolex store. Shops ranged from really basic and affordable to high end and incredibly expensive. Here we did not purchase anything but just enjoyed the walk and the sights.
Sayonara
Obiyamachi let out right near Harimaya-bashi bridge, and we were getting close to 2 PM, so we made our way back to the bus center to catch a shuttle back to the ship. Once we were back on the ship we saw that the locals of Kochi were giving us a traditional send off. Men and women in traditional dress preformed a local song and dance as we sailed off.